Customers Who Want To Tell You About Us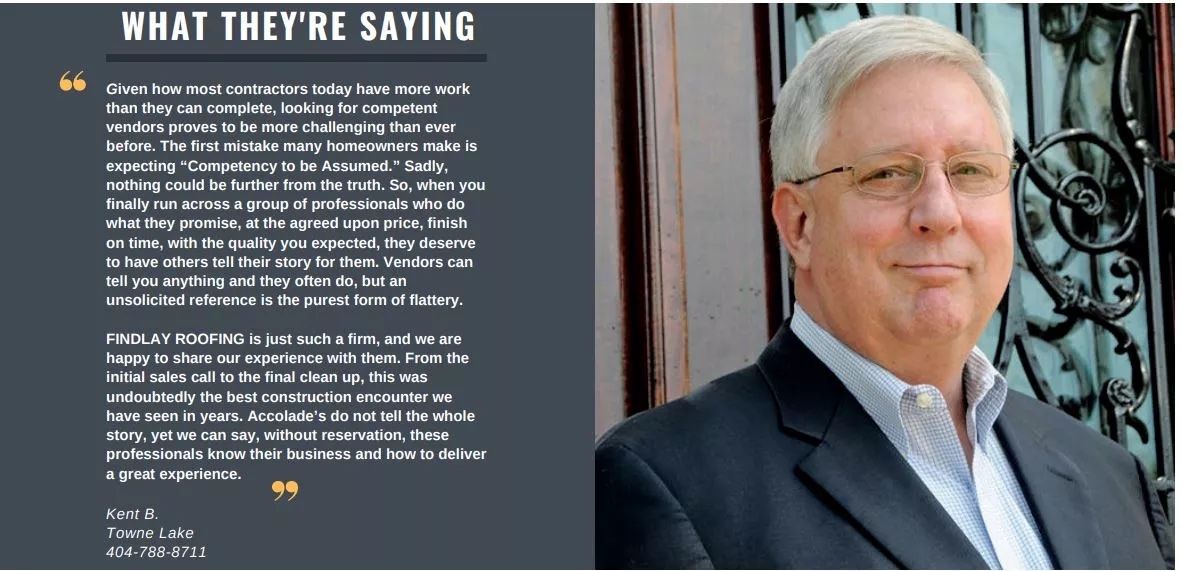 Additional References
While I will admit the price of replacing our 21-year-old roof gave us sticker shock, I am very grateful for the roofing crew Findlay sent to our house. I don't know how they could've done anything any better. They arrived around 7 am and never stopped until they finished shortly after 7 pm with the job completed! It was an amazing process to watch how professional and energetic they were and how coordinated their work was. There seemed to be a pride in their work that was awesome to see. Not only does our roof look great but our property looks better than it did when they arrived!
Carlton & Mary L.
Marietta, GA | 678.773.1365
I thought getting a new roof was going to be a trying time, but I felt very comfortable with Findlay Roofing. They did not fall short of my expectations. I would like to recognize the crew that did the installing and Lina the supervisor, I thought they did great! I would recommend Findlay Roofing to all of my neighbors; they are a quality company!
Pat B.
Decatur, GA | 404-633-6750
The project manager was cooperative and responsive to the fixes we requested following the installation. His crew worked hard to make the necessary corrections. All the Findlay staff were very courteous and competent. The installers were amazing. They also did an incredible job cleaning the job site. Very thorough. The on-site crew chief, Rico, was very courteous and responsive in addressing our concerns. He brought some of the installers back and worked with them to complete the necessary finishing work. Very attentive and professional. Honesty integrity competence and quality You get it all at Findlay!
Steve & Rolene D.
Atlanta, GA | 770-235-0460
There were no areas where Findlay Roofing fell short of my expectations. Everything went faster than I expected. The speed of replacing my whole roof was most satisfying. They did the house roof and my garage roof all in four hours which was impressive. I gave already referred friends and family. Everyone should be recognized for their exceptional service.
Pedro G.
Atlanta, GA | 704-608-4890
We are both very pleased with the entire process through the results!! Our home now is not only protected but great-looking with an elevated appearance. Communication & organization are exceptional! We knew what to expect; updated at every key turn. Austin (sales) & Jr (install lead) are both why our experience was so exceptional!! All crew members were hard-working professionals. Office staff were so detailed & have top notch follow-up. Thanks to every single person both onsite & at the office.
Danny & Laurie H.
Canton, GA | 706-889-3796
I had a water issue in my commercial building that I presumed was associated with the roof. Findlay sent their representative Mark Deraney out to give me a repair estimate. It turns out my problem was not a roof problem at all!! Mark told me how to determine the source of the water and spent time that he knew was not going to lead to a roofing job. Talk about putting the customer first! Mark showed up 10 minutes early, was extremely professional and knowledgeable. When he needed more information, Findlay roofing had plenty of expertise "on staff" for Mark to call on. Based on this experience, I would recommend Findlay if you ever have a roof problem.
Gus H.
Locust Grove, GA | 404-936-0250
I love my new roof! I'm going to sit in the driveway and look at it! Please don't hesitate to use me as referral!
Mary V.
Alpharetta, GA | 404-245-1245
We strongly recommend Findlay Roofing to any person who has need of or has questions about the status of their roof in the metro Atlanta area! All representatives from Findlay Roofing were very professional and extremely knowledgeable. From the original roof inspector, Mr. Mark Deraney to the 3 roof experts who came a day early to follow up with the work order, they all did an outstanding job, and we are very well pleased! We have something now that we didn't have when we first called Findlay Roofing, and that is peace of mind regarding the status of our 12-year-old roof.
Chuck & Nancy K
Gainesville, GA | 770-535-1502
Salesman (John Hartsfield) came out and explained what they did and how they did it and the materials they were going to use. People in the office were very professional. They started the job when they said they would, Kept me updated on what was going on. Very professional crew and work was outstanding. When they left, the site was so clean you couldn't tell they had been there. I was very satisfied with entire operation.
James S.
Carrolton, GA | 770-328-4378
Findlay didn't fall short of my expectations. They did a fabulous job! They were very professional, and they kept us informed. They had plastic all around the house to catch the shingles and protect our bushes and everting. I was very pleased with them. I was satisfied with the final product. My roof looks gorgeous. I had a a lot of people in the neighborhood to ask what the color is because is beautiful. It looks wooded. They sent photos step by step when they were up on my roof. There were about 40- 50 pictures sent to my email of the roof while they were in the process of doing it and taking things off. I was impressed with that. I would like to recognize the crew that did my roof. They worked as a team and as one. I was very impressed with them. Thank you, Findlay Roofing!
Germaine J.
Griffin, GA | 404-447-3408
Findlay Roofing did a great job on our roof. From the time we spoke with the person who gave us the quote, to confirming a date, to selecting a color, to the install, clean-up, and payment, every person we dealt with has been pleasant, informative, and professional. We were provided the necessary information at each step in the process and the crew took awesome pictures so we knew what they were doing and could see the quality of the work. We very much appreciate the excellent customer service and workmanship and would not hesitate to recommend Findlay Roofing to friends and family.
Cynthia & Andy G.
Marietta, GA | 770-354-4599 (Please feel free to text)
Findlay Roofing did my roof and gutters. This company is the finest roofing company that I have ever dealt with. When WSB radio says "Call Findlay First", they are one hundred percent correct! Thank you, friends!
Phillip W
Cumming, GA | 770-296-4923
Happy we chose Findlay Roofing to repair our roof that our builder improperly installed. Findlay Roofing is the real deal, fair price, professional staff and got the work done very quickly despite the pandemic. We won't use any other roofing company for our roofing repair needs.
Jason J.
I really appreciated Findlay, Holly, and Shane for their quick responses to queries I may have had! You guys were awesome!! Unlike other contractors at my home I could barely find traces of building materials around my front yard and driveway. This act is important to me as a home owner, your clean up crew did a marvelous job. For referrals I can be contacted at
nrgcag@yahoo.com
or my phone at 404-219-0726! Again you guys were great!!
Nanci G
Waleska, GA | 404-219-0726
One misty, moisty Sunday evening a couple of weeks ago I heard water dripping onto the counter in a bathroom. It was coming from a corner of the skylight that had been doing nothing but letting in light for 26 years. Monday morning I called Findlay Roofing and on that Thursday, Dave came out to inspect the area for possible leaks. He found moisture and wet areas beneath the shingles along side the flashing at the edges of the skylight. The Tuesday following, Dave arrived (an hour earlier than the appointment time) to fix the problem. All is now tight and dry; no problems -- and I anticipate none.
I am most satisfied with the work Dave did, and would not hesitate in the least to recommend him and Findlay Roofing to anyone who needs roofing done.
Ann T.
Austell, GA | 770-941-1142