How are Commercial Roofs Repaired?
Your commercial roof is like the armor of your business; it's not just a shelter but a statement. No matter how stylish or durable, every commercial roof is susceptible to issues such as cracks and leaks over time. Being a business owner, you know that your commercial roof is an essential investment that protects your business from the elements and provides security for your assets, prolonging the longevity of your property. But, as with any investment, maintenance is crucial, and commercial roofs are no exception. But repairing a commercial roof is not a DIY project. So, when your commercial roof gets damaged, you need an expert roofing contractor to repair it and prevent further damage to your business.
While commercial roof repair isn't the most exciting topic out there, it's crucial for the safety and longevity of your business property. Depending on the type of roof and damage, different repairs may be required, including leak and puncture repair or replacement of damaged roofing material (like shingles, flashing, or plywood areas). Professional roofers use different methods to determine what's wrong and how to fix it, like putting on a waterproof coating or roof membrane. Working with a pro is worth ensuring your commercial roof is fixed right and will last.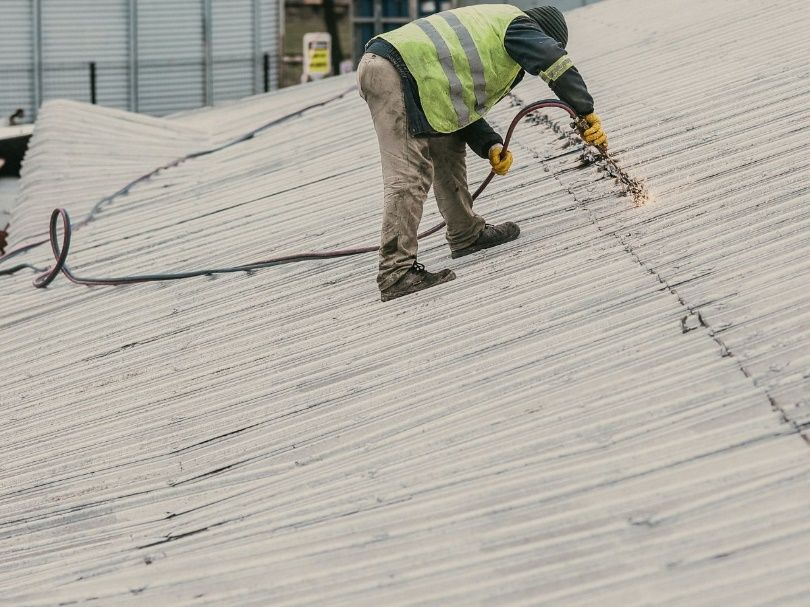 What are the Ins and Outs of Commercial Roof Repair?
Causes of commercial roof damage: standing or pooled water, faulty flashing, excess foot traffic, careless construction activity on the roof, freezing and thawing of ice and snow, and a lack of regular maintenance and inspection — all are major factors that contribute to damaging your commercial roof.
Signs of commercial roof damage: Common signs of commercial roof damage are: water leaks, visible water spots on the ceiling, loose flashing/fasteners, roof leaks, creaks and tears on the roof's membrane, and mold.
Frequency of commercial roof inspection: While having your roof inspected twice a year is recommended, it's also wise to inspect it more frequently, especially after storms or weather changes that may have caused damage. Inspections done on time can help you find problems and fix them before they get worse and cost more to fix.
Repair the damages or replace the roof: When it comes to maintaining your commercial roof, repairing minor damage can be a smart choice if most of the roof and insulation are still in good condition. This can help you save money and prolong the lifespan of your roof. However, replacement may be the better option if significant damage has occurred and more than 25% of the roof needs repair.
The time needed to repair commercial roof: This duration could range from several weeks to even a couple of months - depending on various factors, including the availability of materials, the complexity of the repairs needed, the size of your roof, the number of workers assigned to the project, and the weather conditions during the repair period.
Average Cost of commercial roof repair: Repair costs for your roof depend on various factors, including the condition and materials used. Expect to pay $5.50 to $8.50 per square foot for materials and labor. But, roof accessibility and local roofing requirements also influence the repair cost. For example, roof access to a warehouse is much easier than to a high-rise building.
Ways to prevent commercial roof damage: Regularly inspect your roof, reduce weight and foot traffic, and maintain cleanliness to prevent potential damages. Check for leaks and signs of wear and tear in the walls and attic, clear debris and dirt, unclog the gutter, and prune nearby trees and shrubs.
The lifespan of a commercial roof: Your commercial roof's lifespan may vary between 15 and 25 years. Don't forget that how your roof gets installed impacts its longevity. Hire an experienced roofing contractor to get the job done right. Furthermore, select the right materials that can withstand the local weather conditions for longer.
Insurance coverage for commercial roof repair: Insurance carriers cover specific commercial roof damage costs. Typically, carriers don't cover damages caused by property owners, repairs for materials that are highly prone to damage, repairs of old roofs, or overly expensive materials. For example, your insurance might cover leaks and water damage only when caused by a covered event.
To find a reputable commercial roof repair contractor:
Check for licensing and insurance.
Look for experience in commercial roofing.
Check for references and reviews.
Ensure they offer a warranty on their work.
Get multiple quotes and compare them.
Is it Time for a Roof Inspection?
Findlay Roofing has offered the best roofing services in the Atlanta area since 1995. As Georgia's largest full-service roofing contractor, we're proud to be a leading Owens Corning Platinum Preferred Contractor, a National Roofing Contractors Association member, and in good standing with the Better Business Bureau.
Our commitment to quality workmanship and materials is evident in everything we do, and we never compromise. Our fully insured company offers a lifetime leak-free warranty and only accepts payment once we've delivered our promises. If you need roofing services, call us today to experience our exceptional service and attention to detail.