What Type of Damage can Storms Cause to Roofs?
Your roof is vulnerable to various weather conditions that can severely damage it. Windstorms, heavy rain, thunderstorms, hailstorms, and snowstorms are all potential threats that weaken your roof's structure and cause shingle damage, water leaks, and other issues. For example, strong winds during a windstorm can damage the shingles, clog the gutter, leak water into the house, and even blow off the shingles entirely. Heavy rainfall and thunderstorms also greatly threaten your roof because they collapse its structure. Standing water caused by such storms can even lead to roof holes, weakening the adhesive between shingles.
Hailstorms don't last as long as rain or rain storms, but they do just as much damage. If you think a storm may have caused damage to your roof, have a professional roofer look at it. They can assess the damage and recommend necessary repairs or replacements. Some roofing contractors also offer emergency services for storm damage, such as tarping the roof to prevent further water damage. Addressing storm damage to your roof immediately helps prevent further damage and ensure your property's safety. This article evaluated various aspects of wind and hail damage to roofs and provided a detailed overview of all the necessary information about potential roof damage. We'll explain everything, from identifying common issues to implementing effective preventive measures.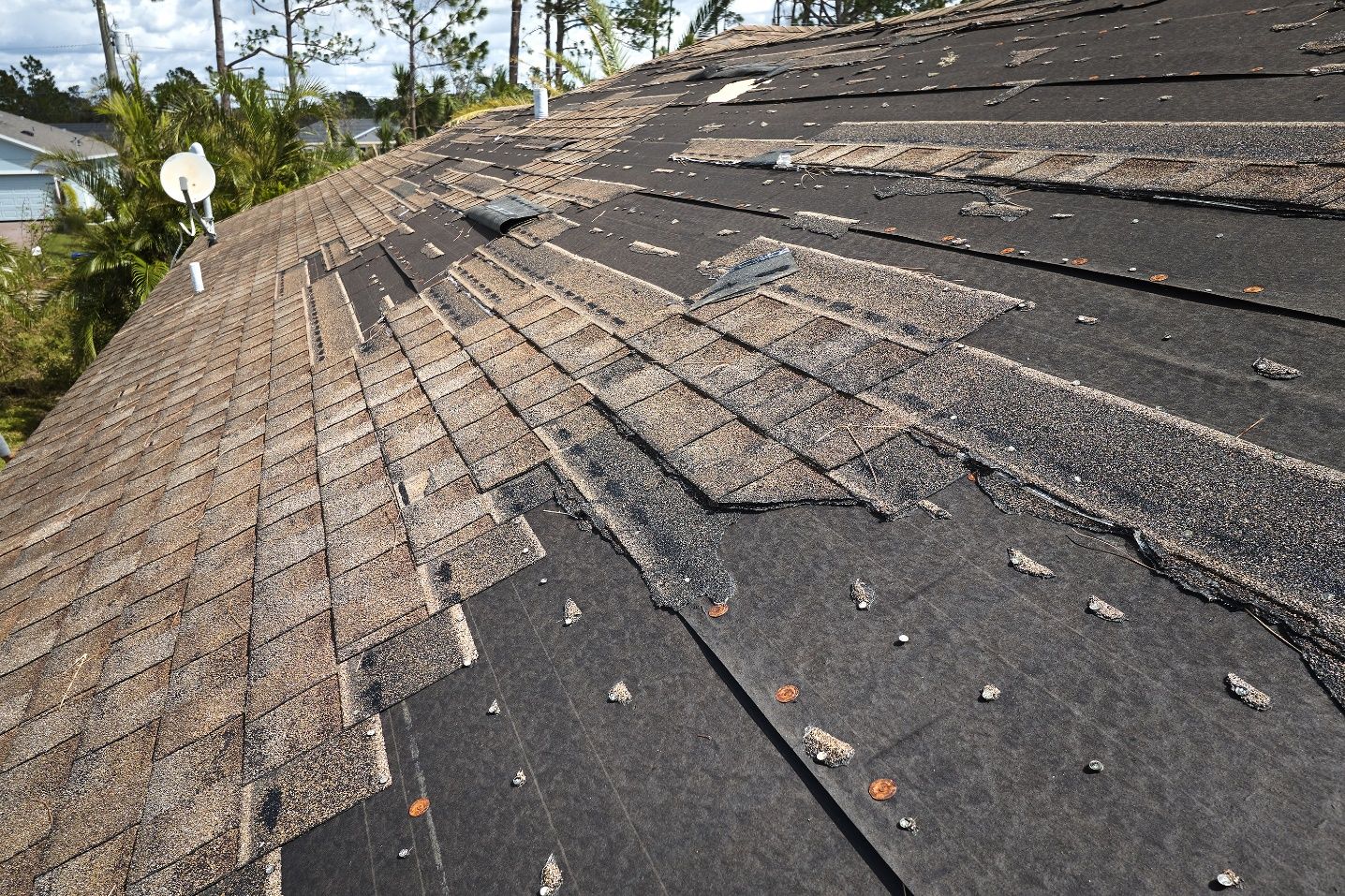 Roof Damage: Answers to Your Questions About Hail and Wind Damage
Hail or wind damage to roof: strong winds and debris carried by the wind during a wind or hail storm cause significant damage to the roofing system, including loose and missing shingles, cracks, holes with water leakage, and other roofing difficulties.
Signs of wind or hail damage: Signs of wind or hail damage to the roof include granules coming off the shingles, cracks, bruises, or dents on the shingles, weakened shingle seal, and water leaking through cracks and holes caused by the storm.
Things to do after wind or hail damage: Call your insurance company immediately when you notice signs of roof damage after a wind or hail storm, request that your claim be approved, and find an expert roofing contractor. If your claim is not approved, ask your roofing contractor to present the necessary documents to help you prove your claim. Once your claim is approved, repair your damaged roof before the damage spreads and worsens.
Insurance coverage for hail and wind damage to the roof: Your homeowner's insurance will cover your wind or hail damages according to your policy conditions. Factors influencing the coverage are the roof's age, prior condition, and unresolved maintenance issues on your behalf.
The time needed to repair wind or hail roof damage: Your roofer might take 1-5 days to fix the problems with intermediate difficulty. The extent of the damage will likely determine the repair time. The repair might take longer than expected if the weather conditions are unfit for roof inspection and repair.
Ways to prevent wind or hail damage: Use an entirely waterproof plywood sheet over your roof as an extra layer of protection, cut down tree branches near your roof, and make sure your roof sheets are installed and sealed correctly.
Number of inspections for wind or hail damage to roof: It's recommended to conduct regular roof inspections twice a year or immediately whenever a major weather event, such as a wind or hail storm, passes. You must evaluate and address wind and hail damages without delay.
Choosing a roofing contractor: Working with a local contractor with several years of experience and proven credibility is safe. More importantly, select a company that can be your advisor when insurance claims are involved.
Ways to protect the roof from wind or hail damage: Conduct scheduled inspections to discover and address the signs of potential damage. It's best to install durable and wind-resistant roofing materials if your region faces frequent storms. If your shingles are old, replace them before the next storm hits.
Additional problems caused by wind or hail damage: Wind or hail damage to your roof can lead to other problems, such as:
Water leaks and mold growth resulting from damaged or missing shingles or tiles
Higher energy bills due to compromised insulation from damaged roofing
Decreased property value because of the visible damage and the need for repairs
Safety hazards like falling debris or a weakened roof structure
Protect Your Roof Today
Dealing with a damaged roof, especially after a storm, is dangerous. Leave the work to the experts of Findlay Roofing, a trusted roofing company serving Atlanta since 1995. At Findlay Roofing, we know that a damaged roof can cause major headaches for homeowners. As Georgia's largest full-service roofing contractor, we've built our reputation on quality workmanship and materials. We're proud to be a National Roofing Contractors Association member and an Owens Corning Platinum Preferred Contractor. With our lifetime leak-free warranty and commitment to only accepting payment once our work is complete, you can trust that we stand behind our work. Call us today for all your roofing needs.