Commercial Roofing
Protect Your Commercial Buildings
Roof Replacement on Your Schedule
Time for a Commercial Roof Replacement?
You know it's time for a commercial roof replacement at your business or the property you manage. Perhaps you've been thinking about it for a while.

But you're concerned about:
The work interrupting your business, your employees or your customers

Your property or the cars in the parking lot getting damaged during the roof replacement process

Getting a quality, long-lasting roof at a reasonable cost

Your reputation as a property manager, and choosing the best contractor for your client
We work around your business hours.
The commercial roofing team at Findlay Roofing has you covered. We take extreme care with your property and everything on it. We'll even do the work on a weekend if necessary.

And after shopping around, we think you'll find that Findlay offers just the right balance — the exact commercial roof you need without spending a penny more than necessary.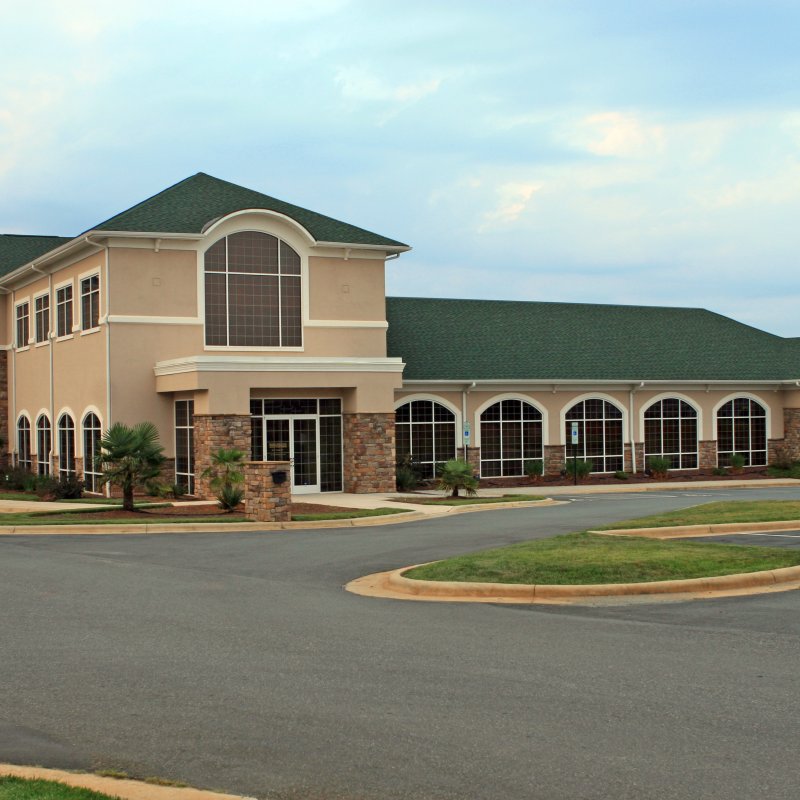 A Trusted Vendor
Business owners have been referring Findlay Roofing to each other for over 17 years. Why? Because of the quality control experts on our staff, and the high level skills of our roofing professionals. We're here for you, for everything from small standalone buildings to industrial roofing for large installations.
Learn more about roofing issues in Roofing 101.
Only need minor commercial roof repairs? No problem. Need new gutters to go with your new roof? We'll handle it.
I have used Findlay in the past for numerous jobs (total roof replacement, internal roof repairs, plumbing boot replacement, fixing sky light leaks, fixing water heater exhaust leak, removing and shingling over turtle vents, replacing a ridge vent, gutter installation plus gutter screens). I have always been happy with their work. From the office staff to our sales rep and the installers, they are all very courteous. I have never felt the sales rep ever tried to sell me more than I need. We would use them again without a doubt.
- Beth H
The folks at Findlay Roofing were top-notch professional from beginning to end. They responded immediately to my estimate request with e-mails and phone calls. They set up a visit for an estimate the very next day. An oversight was made during the estimate and their rep called me promptly and took full responsibility resulting in no additional cost to me. My wife indicated that the roofing technician got right to work proving he was very confident and competent in what he was doing. He assessed and repaired all of the damaged areas and areas requiring attention in one visit. This entailed repairing and re-sealing areas around all of the vents in my roof. It has rained very hard on multiple occasions since the repair and not a drop of water has breached my roof. The price for their service was very fair, particularly for the level of service that I received. I would highly recommend Findlay Roofing for your roof repair needs. You will receive the best work and the best service you can get for your money.
- Eric Beaver
My wife and I had four different quotes from different companies. We try to be VERY thorough when getting quotes because we hate, "Post -Byers Remorse." Not only did Findlay Roofing come in the best priced but their craftmanship in installing our roof was top-notch. Our salesman was courteous and thorough... he knew his trade. We also had a great selection of styles, grades and colors. Findlay even had a listing of customers in our area where we could drive over and see their roofs and the style we were interested in. In closing, I have been in the home service industry for close to 40 years. As president of my business, I know the true value of honesty, dependability, follow-up, etc. Findlay Roofing met all of those qualities to the max. EVERY DAY... when my wife and I drive up to our home, we always say, "We love our roof!" I have close to a thousand customers in my pest control business here in the Alpharetta area. I will be referring all of them to Findlay Roofing.
- Al Robinson
I am extremely pleased with my new roof and gutters from Findlay Roofing. Findlay exceeded my expectations, from the initial consultation to the end of project clean up. Communication was prompt and clear at all times and the work was completed ahead of schedule. The Findlay team really made the roof and gutter replacement a stress-free experience for me. I'm so glad I chose Findlay over others and I highly recommend Findlay for any roofing services.
- Preston Studstill
Commercial Roofing
Enhancing & Projecting Your Business
Pick up the phone and let's talk about exactly what your building needs: single ply (TPO, PVC), modified bitumen, asphalt shingles, metal roofing, roof coatings, cedar shakes, clay/slate roofing, gutters and downspouts, parapet coping, roofing insulation, and plywood. We use only the best in product lines, paired with our exceptional workmanship to ensure that you are completely satisfied.
Call us at Findlay Roofing today to get your questions about your commercial or industrial roofing project answered. Our team of experts in metro Atlanta and North Georgia is ready to get started when you are.